Have you ever wanted to pick up a musical instrument but thought that it might be too late to take the time to learn it?
Trust me, you are not the only one thinking that. It can be challenging to take the steps to learn a new musical skill – especially when it seems like the learning curve is too large without starting as a child.
It is true that learning an instrument at a young age is much easier as the sounds and patterns can be processed in ways that might otherwise be more challenging as your brain is more fully developed.
But, that should not stop you from learning a musical instrument as an adult since there is much to gain from beginning the new hobby.
If you are learning to play an instrument at an older age, you can improve your brain function, boost creativity, relieve stress, and bring more balance to your life.
Benefits of Learning a New Music Instrument
Aside from impressing your friends and family with your new skills, there are some incredible benefits that can come from learning a musical instrument – even at an older age.
Improve Brain Function
One of the best reasons to learn an instrument as an adult is to assist with memory retention and increase cognitive ability. Memory function is a completely normal part of aging and practicing music can be a way to help aid with improving memory problems. While it may take longer to learn new skills on an instrument, continuous practice will help improve brain functions.
Stress Relief
Many people find relaxation and a sense of calmness when listening to music. In much of the same way, playing music can bring that same stress relief. This may assist in improving other aspects of life including better sleep, less joint pain, and lower blood pressure.
Coming from another musician, playing an instrument is also one of the best ways to mediate mental pain and release bad emotions. While this is more of a personal note – there is no doubt that there is always something to play to match your current emotions and help provide relief.
New Community
Playing an instrument opens a whole new world of possibilities when it comes to meeting new friends and building a new community. It could be learning backup guitar for the local church group or meeting up with other beginners to learn how to improvise with other players. Regardless, there is a whole lot of opportunity to make new friends.
The Top 6 Instruments to Learn for Adults
OK – so we already know about how awesome and beneficial it is to learn a new instrument… now to decide what instrument to learn!
In our opinion, the following instruments are great for beginners as they either have a shorter learning curve or can be more versatile with different styles of music. Here we go…
1. Piano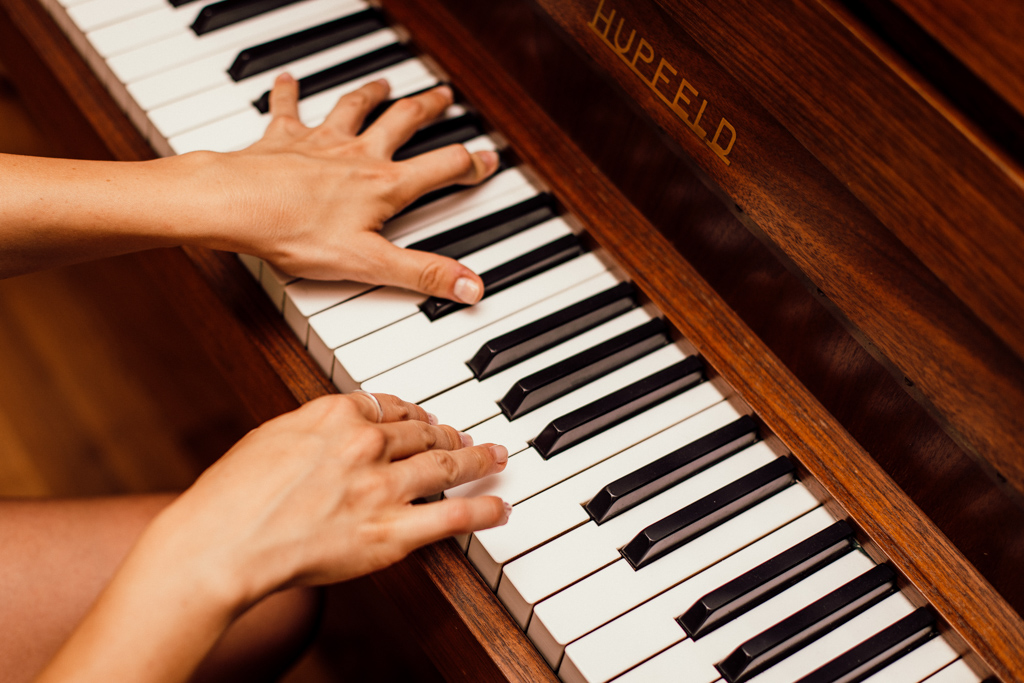 Any list that covers the best instruments to learn will almost always begin with the piano. There is a good reason for this.
Not only is the piano one of the most popular and versatile instruments, but it is possibly the easiest to understand when learning music theory and melodies. The versatility of the piano means that you can learn just about any style of music ranging from classical to bluegrass. This is also helpful if you find yourself not enjoying a certain style of music and then having the ability to simply change it.
Another reason why the piano is so great to learn is that you can find piano teachers almost anywhere! Since the piano is considered to be the instrument that holds the foundations of many other musical instruments, many musicians will be familiar with the piano.
If you are worried about the coordination between both hands, don't fret! (pun intended). It is the easiest instrument to understand written music with visualizing melodies and chords.
Possibly the main downfall is that the piano is not a portable instrument. If you find yourself traveling often or always moving around to practice with others, then it might make more sense to choose a stringed instrument that can be carried with one hand.
2. Guitar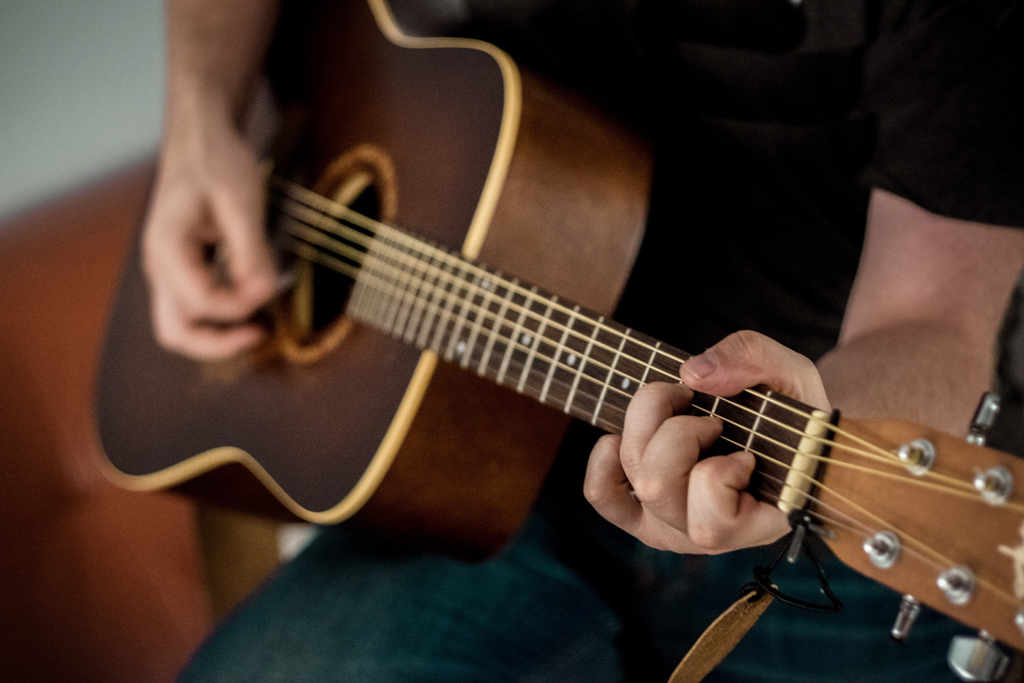 The guitar is also considered to be one of the most versatile instruments with a wide range of styles. The difference between choosing a guitar versus a piano is that there are many different styles of guitar to choose from depending on what type of music you would like to play.
Interested in Flatpicking and backup chords for bluegrass? You might choose a Martin guitar or similar light-bodied guitar with a warm tone.
How about classical or flamenco music? A Classical guitar with nylon strings instead of metal would be more fitting.
Want to play solo for hours in your music studio? Maybe an electric Stratocaster guitar with a loop pedal will keep you entertained.
The point here is that it is a good idea to understand which style of music you would like to play before choosing the guitar as different styles will match different types of music.
One of the best reasons to choose the guitar is that it is the perfect instrument to play without needing accompaniment from other players. You can choose to sing and play chords on the guitar and have everything you need to play music for others – whether that be through speakers at the local restaurant or around the campfire for some sing-along songs.
As one of the most common instruments, you will find teachers almost anywhere you go and if you would rather learn on your own – there are endless resources online that will help you start playing.
3. Mandolin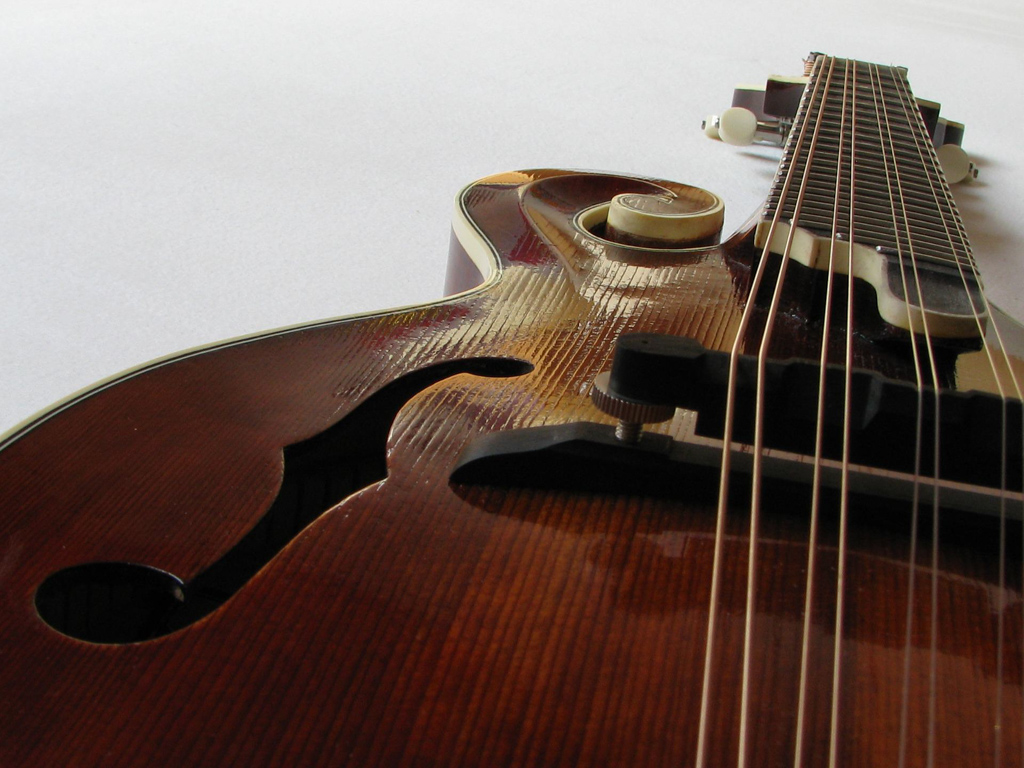 If you love the idea of a stringed instrument that is portable and is not the guitar – then the mandolin might be an excellent choice for you.
It can seem like the guitar is played by so many people and you may be wanting to choose an instrument that is more unique.
The mandolin is great because not only is it not a common instrument, but it can be played well with others and by itself. Like the guitar, it can hold its own when playing chords and singing. (Think Eddie Vedder – Into the Wild).
It may not have as many resources and may not be as easy to learn as the guitar but is a fantastic choice for those wanting something different and great in a folk setting.
4. Ukulele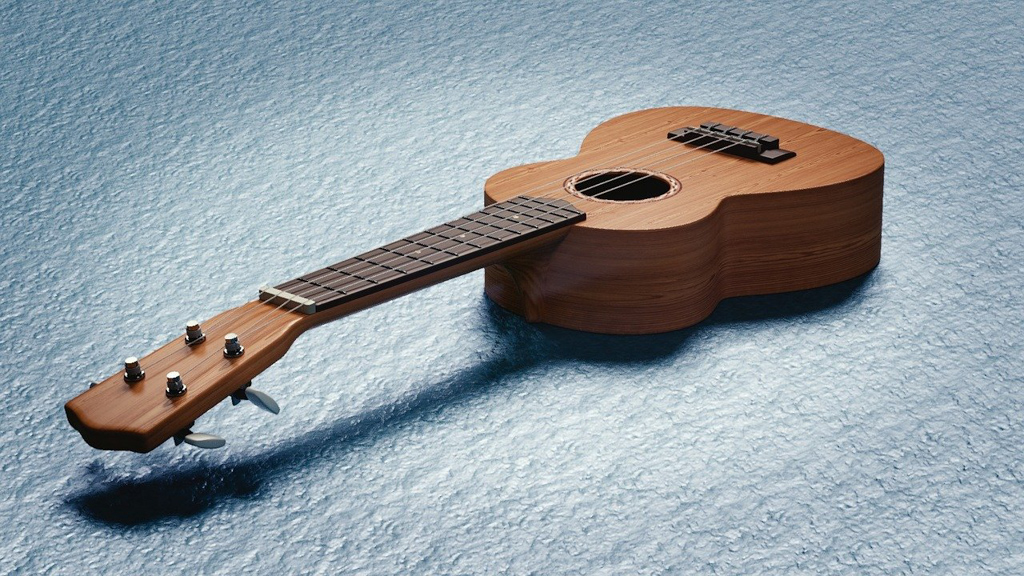 Of course, the ukulele is going to make the list as one of the best instruments to learn. It is possibly the easiest to learn with only four strings and some of the simplest chord patterns. The ukulele uses nylon strings and is the most portable stringed instrument – perfect for travelers looking for a simple instrument that they can take anywhere.
The ukulele is going to have a much lighter and warm tone as compared to a guitar and can be used with a pick or simply strummed with your fingers.
While it is true that the ukulele is one of the more basic instruments, there are endless possibilities for what can be learned with it.
Another important consideration with picking up the ukulele is the fact that is one of the most affordable instruments. The materials and size of the instrument make it easy to afford if you have a smaller budget.
Although, we recommend spending at least a minimum of $80 for the quality as anything less than that might not sound very good and can be discouraging when trying to practice and advance your skills.
There is another good choice when it comes to portable and affordable instruments for beginners to learn.
5. Harmonica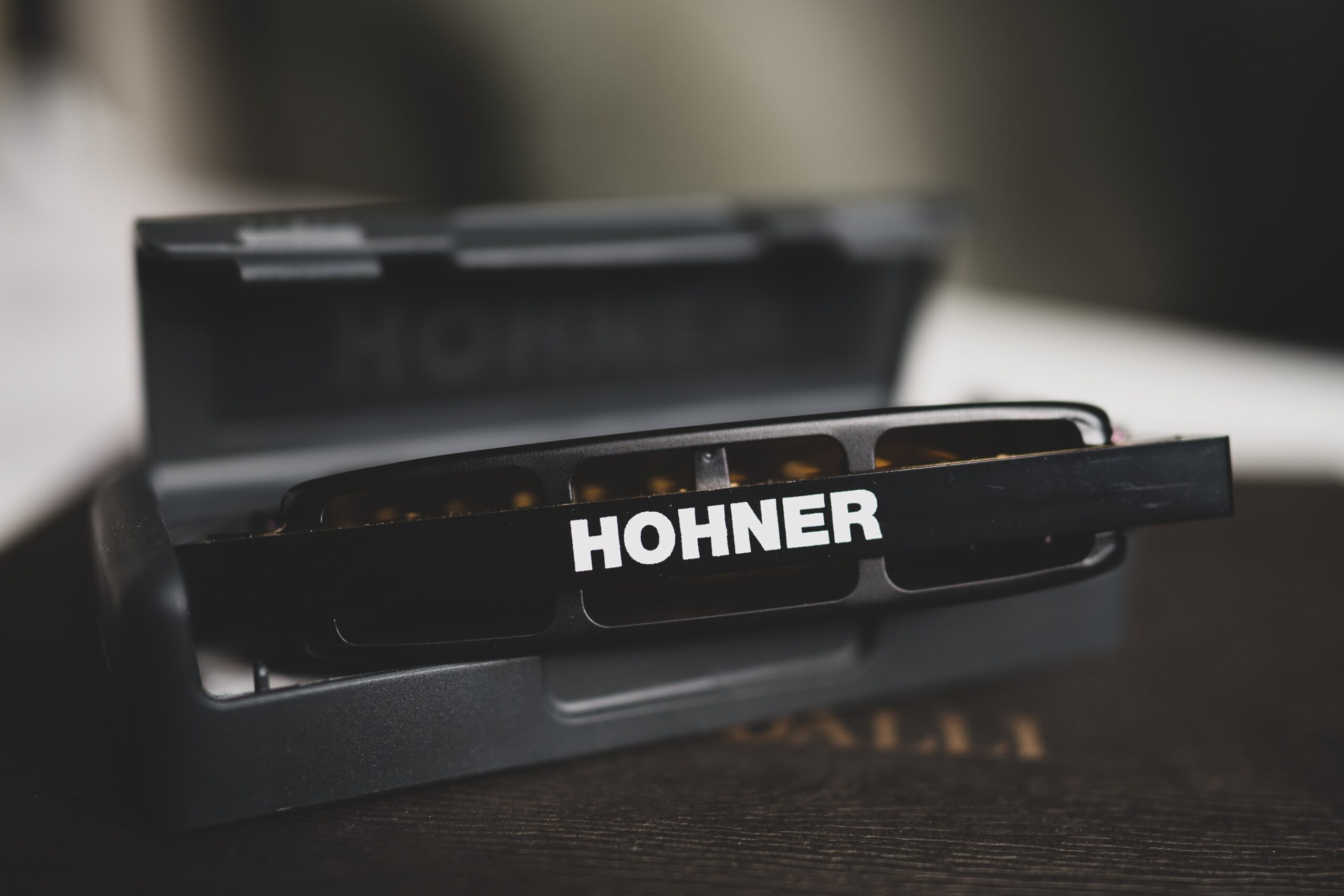 The harmonica is a great choice for individuals interested in a portable instrument that can be played with blues, country, and folk music. Like other instruments listed here, it has a smaller learning curve for beginners and can be picked up in a relatively short amount of time.
The harmonica works quite differently than the other instruments. Instead of having a single instrument with a wide range of notes, harmonicas come in a variety of keys. For example, if you wanted to play in every musical key, you would want a full set of 12 harmonicas.
If you decide to purchase only a single harmonica to start with – you must decide which key you would like to play (with common keys in C, G, and D).
Overall, the main drawback of the harmonica is that it might feel limiting when compared to other instruments that have a wider range of styles and abilities. Never less, for those wanting to hone in on the blues and folk, the harmonica can be a welcome addition to other players.
6. Handpan Drum
If you want an instrument that you can play by yourself and that brings more positive energy within yourself and has a majestic sound, then check out a handpan drum.
The sounds that come from this instrument are beautiful and relaxing – bring good vibes and soothe the soul.
It is not an instrument if you are looking to accompany other players but is great if you are interested in playing relaxing music that is meditative in nature.
The handpan drum can be purchased in different keys but is most commonly found in the key of D Minor.
7. Banjo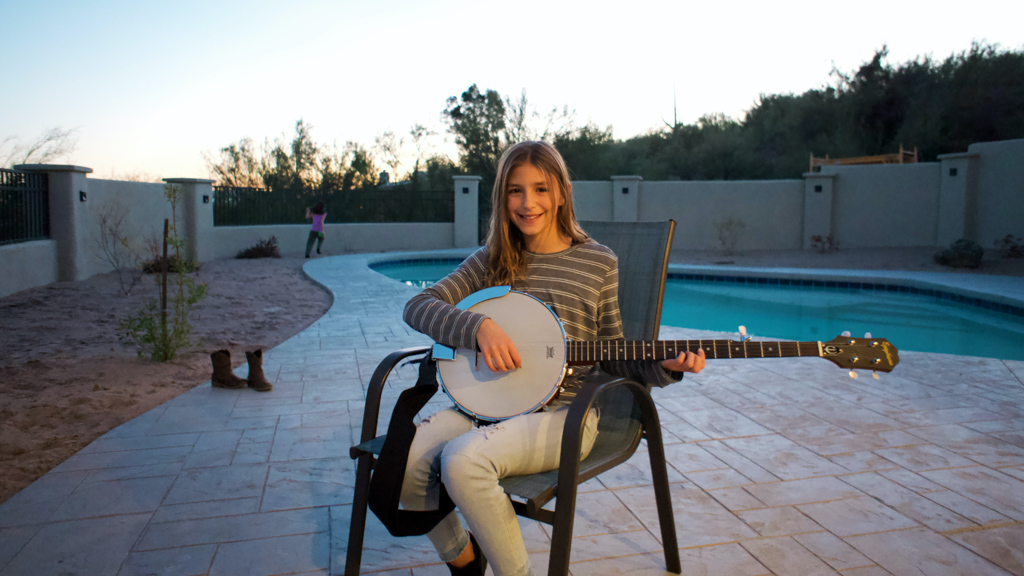 The banjo comes with either five or four strings depending on the style of music that you are looking to accomplish. If it is bluegrass or folk you are after, then the 5-string banjo is a great instrument to learn while the Irish tenor banjo has only four strings.
The banjo might be more complicated than a guitar and larger than a mandolin but is still a great choice if you want to learn a unique stringed instrument within a folk or bluegrass setting. The chord structure is quite simple and easy to pick up.
While it may be more complicated than other instruments on this list, we believe that it is an important addition with an easy-to-follow scale and chord structure, and fun sound. The downfall? The twangy sound of the banjo can often be loud and can be limited to certain styles of music.
Which Instrument is the Best to Learn for You?
When choosing the right instrument – it is important to first consider how much time you want to devote to playing and which style of music you are seeking. If you do not have much time to set aside for practice, then you may want to consider the piano, guitar, or ukulele – as these instruments have the easiest learning curves and have the most resources available to you.
Otherwise, this list just chooses a few instruments to consider… there are many more not mentioned here that may be fitting for you and your learning experience. For example, if you feel that you have strong lungs and good breathing, then you might consider choosing the flute or saxophone. If you want a challenge with classical music in a small package – perhaps a violin is right up your alley.
There is no right or wrong way to start learning an instrument and there are no perfect choices that work for everyone. The important thing to note is to simply just take the next step and actually get the instrument and start practicing.