Playing bluegrass-style banjo is quite different than playing the clawhammer-style banjo. Each technique, while can be used in multiple different genres of music, is usually found in certain styles.
A simple breakdown is as follows:
Clawhammer Banjo is a method of playing where you strum the strings using the back of your fingers and then plucked with the thumb – often played with an open-back banjo and commonly found in "old-timey" music, folk, and traditional fiddle tunes.
Bluegrass Banjo is played with picks on the thumb, index, and middle fingers (Scruggs-style) and is often picked in rapid variations of rolls. Although there are also more advanced techniques such as the single-string technique, the Scruggs-style 3-finger style is the foundation on which bluegrass banjo is built upon.
Let's go into each style in more detail and discuss which instruments and genres of music are most suitable for both clawhammer and bluegrass banjo.
Clawhammer Banjo
All clawhammer-style banjo picking is based on one familiar repetition – known as the "Bum Ditty".
The name "Bum Ditty" comes from the repetition of first striking any of the first four strings on the banjo with the nail of your index or middle finger, followed by a strum across the strings and the thumb plucking up on the fifth string.

While there may be more advanced techniques that can slightly stray from this method of playing, the bum-ditty pattern is at the core of clawhammer banjo and usually has little to no variation.
This style brings a more rhythmic and warm sound from the banjo – which is why it is best suited to open-back banjos. The open-back banjos (which are much lighter than bluegrass banjos) allow for a player to emphasize the warm and mellow tone of clawhammer-style playing.
Roots of Clawhammer Banjo
The clawhammer style is built upon the roots of the instrument that was first found in West Africa as early as the 17th century. It was during this time that the trans-Atlantic slave trade was happening, and black slaves brought the instruments over – this was when it was first introduced to the Americas. By the 19th century, the instrument had evolved into the familiar form we know of today with the five strings and tuning pegs.
What Makes Clawhammer Banjo Style Great?
Clawhammer-style banjo is much more versatile and melodic than bluegrass banjo. It can even be considered a more "laid back" style of playing when compared to lightning-fast picking with bluegrass banjo.
The rhythmic style and sound of the clawhammer banjo is suitable for players who might want the opportunity to play music as a solo performer or with fiddle tunes playing essential melody lines.
It is a fantastic style that can lead itself to both leading and supporting other musicians due to the full sound mixed with simple melody lines. This is what makes it an excellent style for singing along with as well.
To recap, the clawhammer banjo is great for:
Performing solo
Singing and Playing
"Old-Timey Music"
Traditional Fiddle Tunes
While the clawhammer style is not limited to these points, it is at the core of the instrument and an important consideration if you are deciding on what style you would like to play or what type of banjo you would like to purchase.
The Deering Goodtime Open back Banjo is known as one of the gold standards for Clawhammer style banjo. You can also explore our article covering 10+ cheap banjos for some variety of the best options to carry you through intermediate-level playing.
Bluegrass Banjo
The bluegrass banjo style is often associated with the Scruggs-style banjo, made known by Earl Scruggs who picked the banjo with rolls using picks on the thumb, index, and middle fingers.
Unlike the clawhammer style, it does not use any sort of strumming but instead uses fingerpicks to play in sequences (also known as rolls).
This style of playing is associated with fast-tempo and hard-driving bluegrass and plays an iconic role in a bluegrass ensemble – including guitar, mandolin, upright bass, dobro, and fiddle.
While the style lends itself to an important role in high-energy bluegrass music, it is not as suitable for players looking to sing and play as solo performers as the instrument lacks the quality rhythmic strumming of the clawhammer style.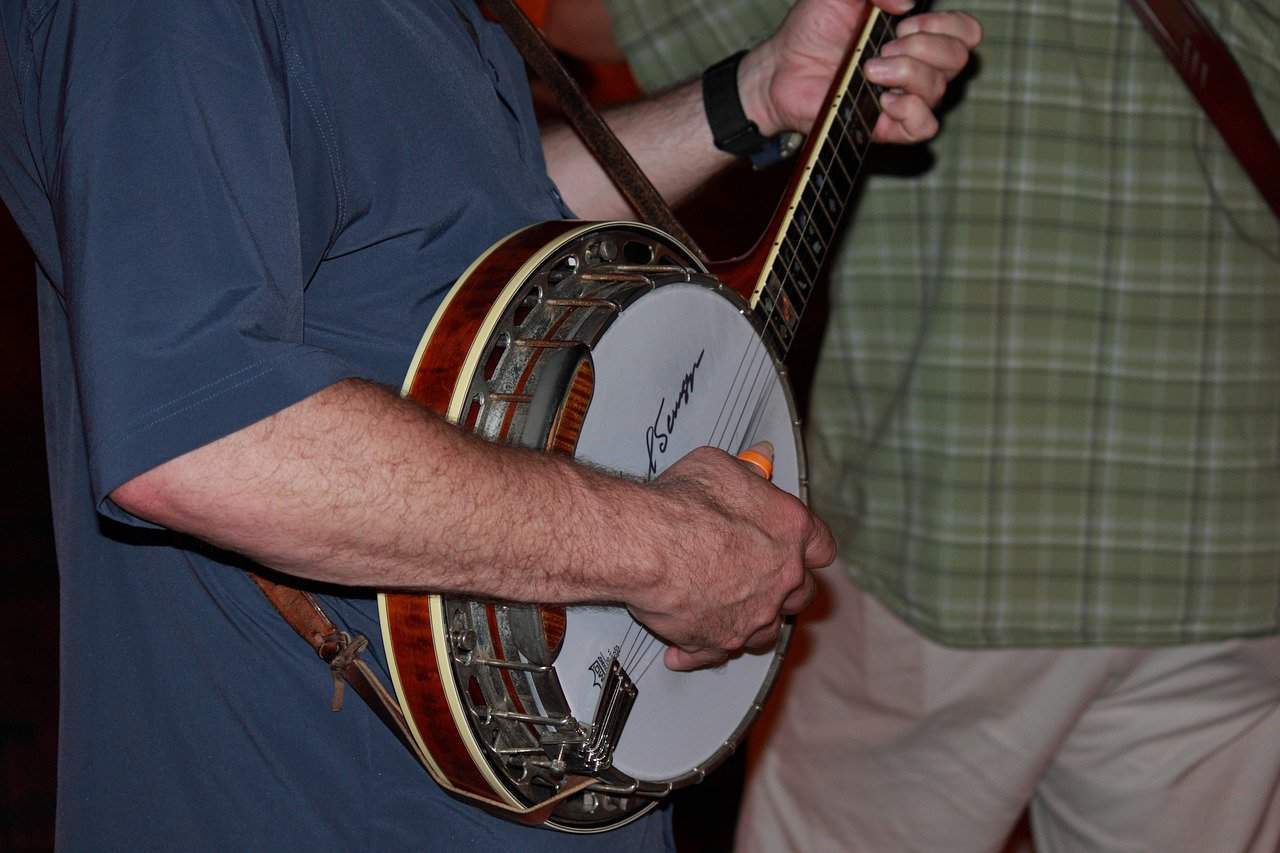 This type of picking is best played with a closed-back banjo – which has a resonator on the back of the banjo as opposed to an open-back banjo.
While we suggested the Deering open-back banjo for the clawhammer style, a great beginner/intermediate banjo for bluegrass would be the Deering Goodtime 2 – which features a resonator and is built for bluegrass picking.
Roots of Bluegrass Banjo
Earl Scruggs is known for being the father of bluegrass banjo – which is why this type of playing is called the Scruggs style. His first band, The Bluegrass Boys, dates to 1945 and includes the other iconic fathers of bluegrass including Bill Monroe and Lester Flatt.
While many different rolls and variations have been developed over the years, his basic rolls and styles are the root of the bluegrass banjo.
What Makes the Bluegrass Banjo Style Great?
While it may not be a great pick for those looking to sing and play without the accompaniment of a full band, it excels when it comes to fast-driving bluegrass picking. If you like the idea of bouncing your head back and forth and picking some high-tempo music, then bluegrass banjo is the right choice for you.
There is also much more you can do to expand musically when it comes to bluegrass vs. clawhammer. While clawhammer has the one major style of strumming (remember the Bum Ditty?), the world of bluegrass banjo can be filled with hundreds of different rolls and variations – not to mention the ever-expanding single string and melodic styles of playing.
This is not to discredit clawhammer banjo – it is just that each type of picking has a very unique style that could or could not be right for you.
Should I Choose Clawhammer or Bluegrass Banjo to Start?
That is a loaded question that is completely up to your personal preference and style.
Although to recap, here are a couple of major points we think are worth mentioning to help guide you with your choice.
Clawhammer Banjo – is a great choice for those looking to play "old-time" music or traditional American music with straightforward melodies. It is also a good option for people who would also like the option to play the instrument and sing at the same time – or perform as a solo musician.
Bluegrass Banjo – an excellent choice for those looking to join a bluegrass banjo or play in "jam circles" at festivals. Also, a good choice if you like the challenge of picking a hard-driving and fast tempo.
Both options are a fantastic way to get into the world of music. Good luck on your musical journey and welcome to the world of banjo players (and bad banjo jokes)!